So I guess quite a few people have done their "how I have their audio setup" posts recently, with Zoom calls for all it seems everyone has the latest and greatest Microphone.
You don't, I think, need to spend a fortune to get a reasonable sound and so I took the opportunity to upgrade my audio recently.
For many years I have been using my Blue Yeti Pro microphone, however it stopped working in late 2019. Given the symptoms of no power being drawn I took to the internet to find out the issue, then several hours later…
I now have a non-working microphone and some spare screws.
So I'm now down a Blue Yeti. Time to consider a new microphone. Keep in mind my Blue Yeti was maybe 7 or 8 years old; I wasn't overly upset. It was a good general-purpose microphone at a a reasonable price.
So options are lots, ranging from the quite expensive to the very expensive, when you look at microphones in the podcaster market anyway. Especially when you are looking at a USB microphone.
So what did I go for? A Rode NT-USB? Maybe the Shure SM7B, a mere £350 at the moment when you can find one? No, I went with a £25 Neewer NW-800.
Before you click off going "what the actual?", hear me out.
My complete setup is:
And I took the opportunity to get a new adjustable arm – Amazon
——-
Total cost: £70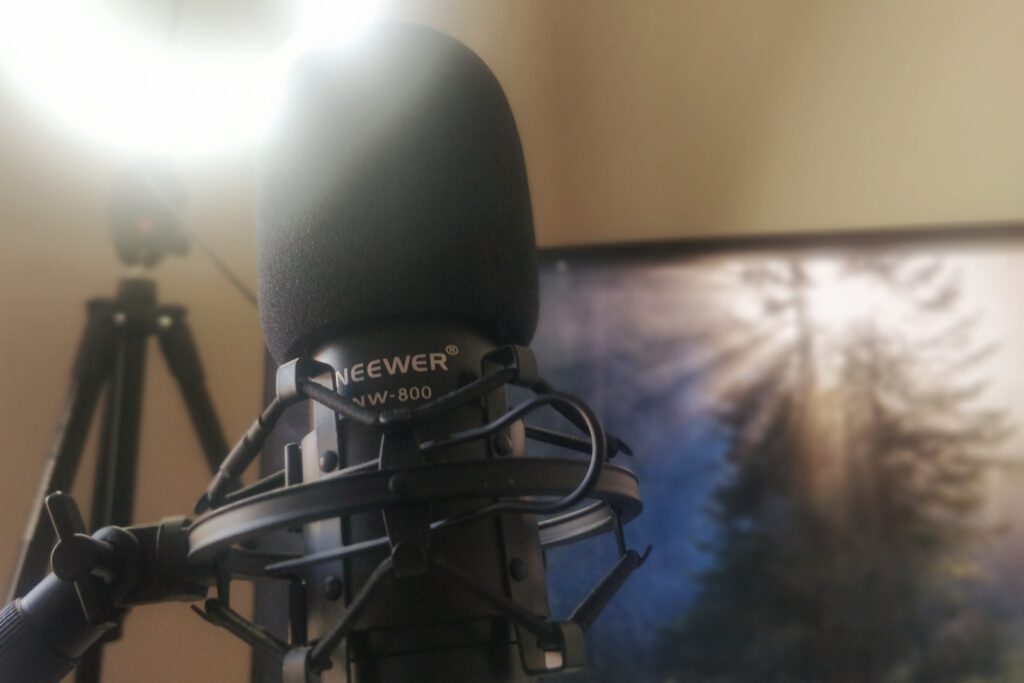 So let's look at my requirements. I need ok audio, it doesn't have to be amazing but it needs to be reasonable enough that I can:
Be on video calls without sounding like I'm swimming
Be on a podcast and not upset you or the host
Do the occasional video voice over
I am not looking to be a radio DJ, my goal is to be at least better than the built-in microphone.
I nearly bought the Shure SM7B. It is a great sounding mic, but I, to be honest, don't have a great sounding voice. While a good microphone can do wonders it's not a miracle worker. So I was left with a question. Is it going to make me 20 times better than the NW-800?
The answer is, for what I'm doing, no, but we knew that.
Likewise, there are lots of other things I could do to improve the audio, for example, dampening in the office would have significantly more impact on the overall sound.
You can listen to how it sounds as I read to you an extract of this very post
I have deliberately left the audio unedited, including the clipping and pops the later fixable with a pop shield.
Getting it all setup
Setting everything up is fairly easy. I'm not going to tell you how to clamp a stand to a desk but the U-Phoria UM2 connects to the Mac via USB which is providing power for both the device and phantom power for the microphone – you can find a toggle at the back to provide the phantom power. The microphone is added to the clamp and the XLR cable plugged into microphone and the U-Phoria.
You might as well throw the XLR cable that comes with the NW-800 into your bits box because it's not going to work with any modern Macs that use the dual audio in and out connection, meaning the jack needs 3, not 2, stripes hence why we are using an audio interface.
Once all plugged, in your audio interface should have a pair of lights on the right. Likewise make sure the three knobs on the top are dialled fully to the left so you don't scare yourself.
Now if you open Sound Preferences in macOS you will see USB Audio CODEC as an input option, select it and start speaking and hopefully you will see sound sample soundform moving on screen.
Assuming this all works, you rush to Quicktime to record some audio, select the microphone and speak into it. Then you listen back but the audio is only coming in one channel, probably meaning you hear through just your left ear.
How to fix audio coming to only one ear with Behringer U-Phoria UM2?
This is happening because the audio interface is a two channel interface: channel 1 is XLR, channel two is the second jack interface.
So when the signal is received by your Mac it shows as the left channel has sound and the other is silent.
Certain apps will autocorrect this, including Zoom, and plenty of others will let you set channels correctly.
However, there is a really simple fix:
While the U-Phoria UM2 is connected.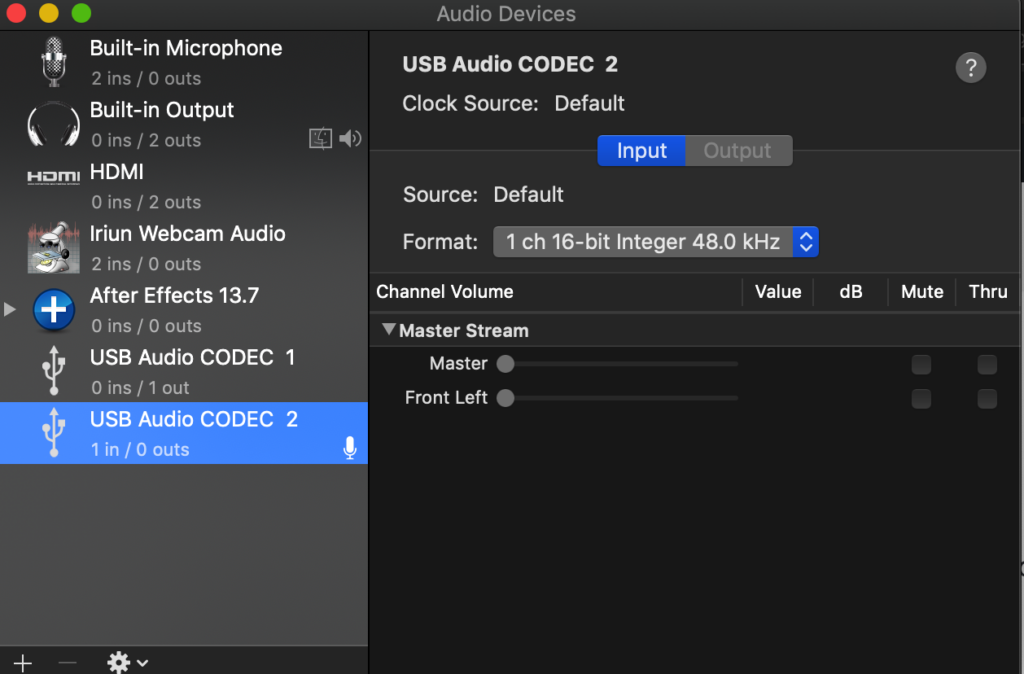 Go to -> applications Utilities -> Audio Midi
Select the USB Audio CODEC input and then change the Format to Single channel 48000HZ.
Now applications will use that by default for this device, and things like Quicktime will record from both channels.
How is it?
I like it. The setup is working well, albeit I have only been using it for a month or so. While setting up wasn't exactly plug and play it really wasn't complicated and the only thing to throw me was the single vs two channels which was a quick fix when I realised the issue, though Googling it didn't help massively and it was pure fluke I remembered a similar issue in the past.
If you are on a budget, no that's badly worded, if you want good audio then I would recommend this setup as a nice starting point, it also means if you wish to change microphones in the future you can while still keeping 95% of your setup.